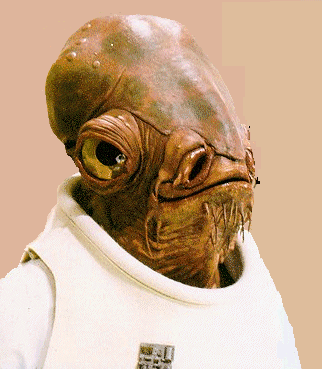 Actor: Timothy M. Rose
Species: Mon Calimari
Sex: Male
Weapon of Choice: None
Occupation: New Republic Admiral
Approximate Height: 5ft. 10in.
Homeworld: Mon Calamari
Ackbar was the voice behind the rebel fleet at the battle of Endor. His people had been inslaved by The Empire, he was rescued later by the Rebel Alliance, then convinced the Mon Calamarians to join the Rebels. They rose to the occassion magnificently, changing their cruisers into starfighters. After the battle of Endor he retired to victory lake, then after Borsk Fey'lya was elected New Republic chief of state he went to live in the seatree forest, but the New Republic is now in need of his skills in order to defeat the Yuuzhan Vong.